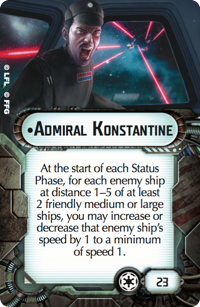 Card Text
Edit
"At the start of each Status Phase, for each enemy ship at distance 1-5 of at least 2 friendly medium or large ships, you may increase or decrease that enemy ship's speed by 1 to a minimum of speed 1."
Rules Clarification
Edit
If Admiral Konstantine's effect changes the speed of a ship with a faceup Thruster Fissure damage card, that ship does not suffer 1 damage from Thruster Fissure's effect.
Corellian Conflict Campaign
Edit
During an All-Out Offensive, this card's effect can resolve against enemy ships belonging to any opponent.
Attributes
Edit
Available Through
Edit
The effect of this Upgrade Card is resolved at the start of the last phase of game round: Status Phase.
Appearance
Edit
Admiral Konstantine was dispatched to the Lothal system where a rebel movement occurred. He tried to hunt them down under the command of Agent Kallus and later under the command of Grand Admiral Thrawn. Kassius Konstantine is a character of the TV-series Star Wars Rebels.
More...
Community content is available under
CC-BY-SA
unless otherwise noted.