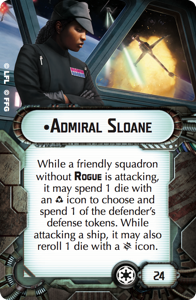 Card Text
Edit
"While a friendly squadron without Rogue is attacking, it may spend 1 die with an

icon to choose and spend 1 of the defender's defense tokens. While attacking a ship, it may also reroll 1 die with a

icon."
Rules Clarification
Edit
A token spent by this card's effect cannot be spent again by the defender during that attack. The defender can spend another token of the same type during that attack.
Attributes
Edit
Available Through
Edit
The effect of this Upgrade Card triggers while attacking with a squadron in Attack Step 3: "Resolve Attack Effects"
Alternate Card Text
Edit
In the overview for the Imperial Light Carrier Expansion Pack the card is seen with the following text:
"While a friendly squadron with Swarm is attacking, it may spend 1 die with an

result to choose and spend 1 of the defender's defense tokens. While attacking a ship , it may also reroll 1 die."
Its fleet point cost is 26.
Appearance
Edit
Admiral Rae Sloane served the Galactic Empire as a naval officer. She was instrumental in its survival in the aftermath of the Battle of Endor. The character was created for John Jackson Miller's 2014 novel A New Dawn. She later plays a role in the The Aftermath Trilogy.
More...
Community content is available under
CC-BY-SA
unless otherwise noted.