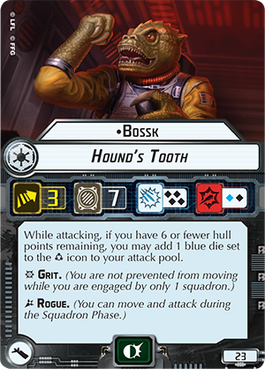 Card Text
Edit
"While attacking, if you have 6 or fewer hull points remaining, you may add 1 blue die set to the

icon to your attack pool."

Grit.  (You are not prevented from moving while you are engaged by only 1 squadron.)
Rogue.  (You can move and attack during the Squadron Phase.)
Defense Tokens
Edit
Attributes
Edit
Available Through
Edit
The effect of this Squadron Card triggers during Attack Step 3: "Resolve Attack Effects"
Appearance
Edit
Bossk was a male Trandoshan bounty hunter. He first appeared as a minor antagonist in Episode V and Episode VI. His backstory was later expanded in several short stories, novels, and comics. Bossk also appeared in The Clone Wars TV-series.
More...
Community content is available under
CC-BY-SA
unless otherwise noted.