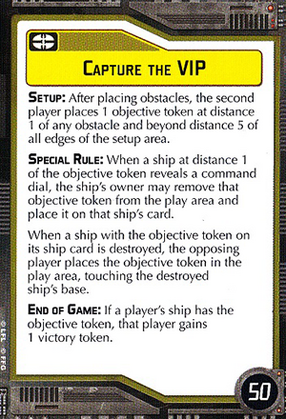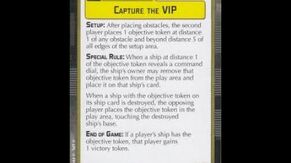 Card Text
Edit
Setup: After placing obstacles, the second player places 1 objective token at distance 1 of any obstacle and beyond distance 5 of all edges of the setup area.
Special Rule: When a ship at distance 1 of the objective token reveals a command dial, the ship's owner may remove that objective token from the play area and place it on that ship's card.
When a ship with the objective token on its ship card is destroyed, the opposing player places the objective token in the play area touching the destroyed ship's base.
End of Game: If a player's ship has the objective token, that player gains 1 victory token.
Victory Token: 50 pts.
Rules Clarification
Edit
When a ship with the objective token is destroyed because it ends its activation outside the play area, the objective token must be placed before the ship is removed. The opponent must place the token touching part of the ship's base that is in the play area or touching the edge of the play area closest to the ship's final position if no part of the ship is in the play area.
Source: FAQ 5.1.1; 2020/03/09
See also
Edit
Available Through
Edit
Community content is available under
CC-BY-SA
unless otherwise noted.