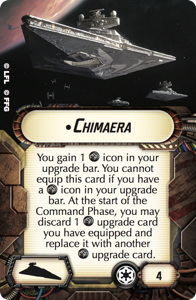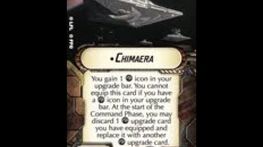 Card Text
Edit
"You gain 1

icon in your upgrade bar. You cannot equip this card if you have a

icon in your upgrade bar. At the start of the Command Phase, you may discard 1

upgrade card you have equipped and replace it with another

upgrade card."
Rules Clarification
Edit
Upgrade cards replaced by this card's effect are no longer equipped to this ship or part of your fleet. When determining the fleet point cost of the ship with this card equipped at the end of the game, the upgrade card currently equipped is the only one counted (even if that card is discarded because of its own effect).
FAQ Version 4.1.1; 2018/04/23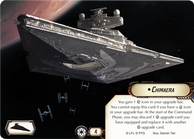 Corellian Conflict Rule
Edit
After Scoring Battles but before Tracking Fleet Condition, replace the

upgrade card currently equipped to Chimaera with the

upgrade card listed on the player's fleet roster.
Attributes
Edit
Available Through
Edit
This Upgrade Card triggers during Fleet Building. You may discard and replace the

card at the start of a game round: at the begin of "Command Phase"
Appearance
Edit
The Chimaera was an Imperial I-class Star Destroyer. It was the flagship of the Seventh Fleet commanded by Grand Admiral Thrawn. The Star Destroyer first appeared in the novel "Heir to the Empire" by Timothy Zahn and was later part of the fourth season of the TV-series Star Wars Rebels.
More...
Community content is available under
CC-BY-SA
unless otherwise noted.