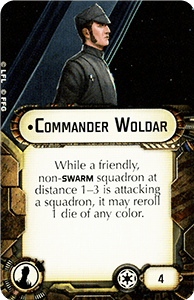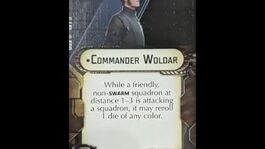 Card Text
Edit
"While a friendly, non-Swarm squadron at distance 1-3 is attacking a squadron, it may reroll 1 die of any color."
Attributes
Edit
Available Through
Edit
The effect of this Upgrade Card triggers during Attack Step 3: "Resolve Attack Effects" of a friendly squadron without Swarm keyword.
Appearance
Edit
Woldar served as a commander in the naval forces of the Galactic Empire where he served in Grand Admiral Thrawn's Seventh Fleet by 2 BBY. He was one of the background characters of the animated TV-series Star Wars Rebels.
More...
Community content is available under
CC-BY-SA
unless otherwise noted.