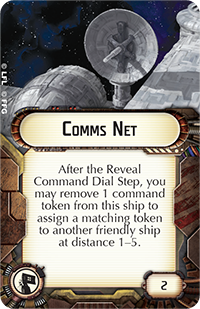 Card Text
Edit
"After the Reveal Command Dial Step, you may remove 1 command token from this ship to assign a matching token to another friendly ship at distance 1-5."
Rules Clarification
Edit
This effect can only be resolved after the Reveal Command Dial step of the ship with this card equipped.
Attributes
Edit
Available Through
Edit
The effect of this Upgrade Card triggers during Ship Activation after step 1: Reveal Command Dial
Community content is available under
CC-BY-SA
unless otherwise noted.