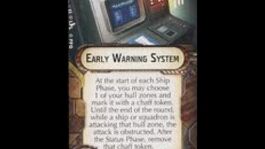 Card Text
Edit
"At the start of each Ship Phase, you may choose 1 of your hull zones and mark it with a chaff token. Until the end of the round, while a ship or squadron is attacking that hull zone, the attack is obstructed. After the Status Phase, remove that chaff token."
Attributes
Edit
Available Through
Edit
The effect of this Upgrade Card triggers during Attack Step 2: "Roll Attack Dice"
Community content is available under
CC-BY-SA
unless otherwise noted.