While a squadron is at distance 1 of one or more enemy squadrons, it is engaged with all of those enemy squadrons.
If line of sight between two squadrons is obstructed, those squadrons are not engaged even if at distance 1 of each other, though they can still attack each other.
An engaged squadron cannot move.
When a squadron attacks, it must attack an engaged squadron if possible rather than an enemy ship.
A squadron does not engage ships or friendly squadrons.
A squadron is no longer engaged if the last squadron engaged with it is destroyed.
Squadrons do not engage other squadrons while moving even if a portion of the range ruler is at distance 1 of an enemy squadron. Only the starting and final positions matter for engagement.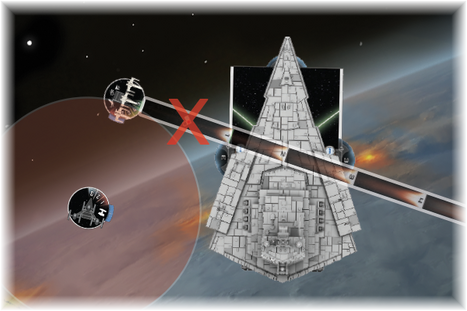 Special Rules with Engagement Edit
Swarm (Squadron Keyword): "While attacking a squadron engaged with another squadron, you may reroll 1 die."
Grit (Squadron Keyword): "You are not prevented from moving while you are engaged by only 1 squadron."
Heavy (Squadron Keyword): "You do not prevent engaged squadrons from attacking ships or moving."
Upgrade Cards with Engagement Edit
• Admiral Chiraneau (Imperial Officer): ": Squadrons that you activate can move even if they are engaged. When an engaged squadron moves in this way, treat it as having a printed speed of '2.' "
• Squal (Quasar Title): "When you activate, you may choose up to 3 unengaged friendly squadrons at close-medium range. Those squadrons may move up to distance 2. If they do, they cannot end their movement engaged."
• Instigator (Raider Title): "Enemy squadrons at distance 1 are treated as if they are engaged by 2 additional squadrons, even if they are not currently engaged."
Fighter Coordination Team (Support Team): "After you execute a maneuver, you may select a number of unengaged friendly squadrons up to your squadron value at close-medium range. Those squadrons may move up to distance 1."
Ruthless Strategists (Weapons Team): "After attacking a squadron, you may deal 1 damage to a friendly squadron engaged with the defender. If you do, the defender suffers 1 damage."
Squadron Cards with Engagement Edit