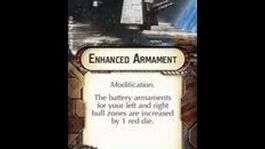 Card Text
[
]
"Modification."
"The battery armaments for your left and right hull zones are increased by 1 red die."
Rules Clarification
[
]
Enhanced Armament doesn't increase the battery armament of auxilliary side arcs of huge sized ships.
Attributes
[
]
Available Through
[
]
Timing
[
]
The effect of this Upgrade Card triggers during Attack Step 2: "Roll Attack Dice"