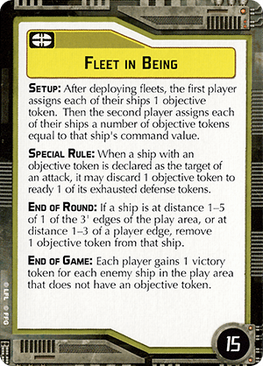 Card Text
Edit
Setup: After deploying fleets, the first player assigns each of their ships 1 objective token. Then the second player assigns each of their ships a number of objective tokens equal to that ships command value.
Special Rule: When a ship with an objective token is declared as the target of an attack, it may discard 1 objective token to ready 1 of its exhausted defense tokens.
End of Round: If a ship is at distance 1-5 of 1 of the 3' edges of the play area, or at distance 1-3 of a player edge, remove 1 objective token from that ship.
End of Game: Each player gains 1 victory token for each enemy ship in the play area that does not have an objective token.
Victory Token: 15 pts.
See also
Edit
Available Through
Edit
Community content is available under
CC-BY-SA
unless otherwise noted.