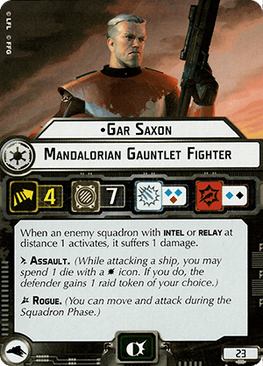 Card Text
Edit
"When an enemy squadron with Intel or Relay at distance 1 activates, it suffers 1 damage."

Assault. (While attacking a ship, you may spend 1 die with a

icon. If you do, the defender gains 1 raid token of your choice.)
Rogue. (You can move and attack during the Squadron Phase.)
Attributes
Edit
Available Through
Edit
Appearance
Edit
Gar Saxon served as a commander of the Mandalorian super commandos in Darth Maul's Shadow Collective during the Clone Wars and later as Imperial Viceroy and Governor of his homeworld of Mandalore. He first appeared 2014 in the Dark Horse Comics Star Wars: Darth Maul—Son of Dathomir. Saxon later reappeared as a antagonist in the animated TV-series Star Wars Rebels.
More...
Community content is available under
CC-BY-SA
unless otherwise noted.