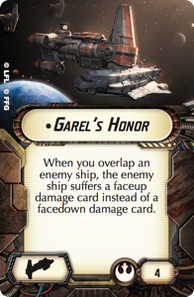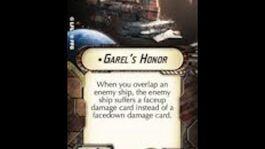 Card Text
Edit
"When you overlap an enemy ship, the enemy ship suffers a faceup damage card instead of a facedown damage card."
Attributes
Edit
Available Through
Edit
The effect of this Upgrade Card triggers after Move Ship step during Ship Activation.
Appearance
Edit
The Garel's Honor title has been created for Star Wars: Armada. Nevertheless the planet Garel plays a role during the episode "A princess on Lothal", in which the Hammerhead Corvettes first appeared in Star Wars Rebels.
Community content is available under
CC-BY-SA
unless otherwise noted.