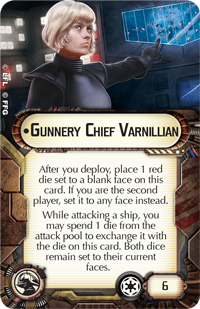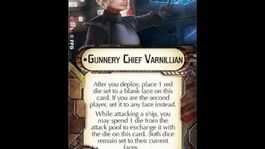 Card Text
Edit
"After you deploy, place 1 red die set to a blank face on this card. If you are the second player, set it to any face instead.
While attacking a ship, you may spend 1 die from the attack pool to exchange it with the die on this card. Both dice remain set to their current faces."
Attributes
Edit
Available Through
Edit
The effect of this Upgrade Card triggers during Attack Step 3: "Resolve Attack Effects"
Appearance
Edit
Niclara Varnillian from Alderaan joined the Imperial Navy. She was part of the operations crew that tested the Death Star superlaser on her very home planet. Unaffected she later served aboard the Imperial-class Star Destroyer Pulsar as chief gunnery officer under Commander Dor Reder. She was presented in an article in Star Wars Journal #08.
More...
Community content is available under
CC-BY-SA
unless otherwise noted.