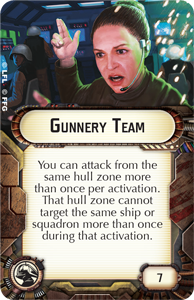 Card Text
Edit
"You can attack from the same hull zone more than once per activation. That hull zone cannot target the same ship or squadron more than once during that activation."
Attributes
Edit
Available Through
Edit
The effect of this Upgrade Card triggers during second attack, at Attack Step 1: Declare Target
Community content is available under
CC-BY-SA
unless otherwise noted.