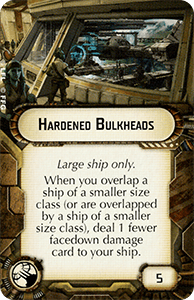 Card Text
Edit
"Large ship only."
"When you overlap a ship of a smaller size class (or are overlapped by a ship of a smaller size class), deal 1 fewer facedown damage card to your ship."
Rules Clarification
Edit
Hardened Bulkheads does not protect a ship against the card effect of Garel's Honor (Hammerhead Title Card).
Attributes
Edit
Available Through
Edit
The effect of this Upgrade Card triggers after Move Ship step during Ship Activation.
Possible Build-Up
Edit
The following ships can be equipped with Hardened Bulkheads:
Community content is available under
CC-BY-SA
unless otherwise noted.