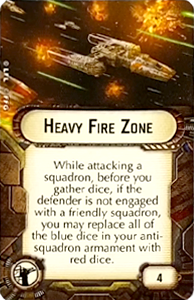 Card Text
Edit
"While attacking a squadron, before you gather dice, if the defender is not engaged with a friendly squadron you may replace all of the blue dice in your anti-squadron armament with red dice."
Rules Clarification
Edit
This card allows to attack squadrons at long range. During Attack Step 2: "Roll Attack Dice" will be checked:
If the attacker cannot gather any dice appropriate for the range of the attack, the attack is canceled.
The attacker replaces all blue dice with red dice before that.
All sort of modifying dice (add/reroll/change/spend) happens during Attack Step 3: "Resolve Attack Effects" after the effect of Heavy Fire Zone upgrade card.
Attributes
Edit
Available Through
Edit
The effect of this Upgrade Card triggers before Attack Step 2: "Roll Attack Dice"
Community content is available under
CC-BY-SA
unless otherwise noted.