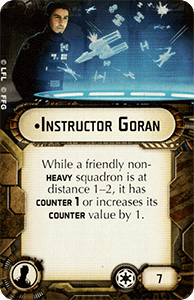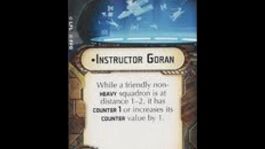 Card Text
Edit
"While a friendly non-Heavy squadron is at distance 1-2, it has Counter 1 or increases its Counter value by 1."
Attributes
Edit
Available Through
Edit
The effect of this Upgrade Card triggers after a squadron was defending against an attack.
Appearance
Edit
Goran was the flight instructor of the Skystrike Academy during the Age of the Empire. The Academy was one of the Galactic Empire's top Imperial Academies to produce TIE fighter pilots. He appeared in one episode of the television show Star Wars Rebels.
Community content is available under
CC-BY-SA
unless otherwise noted.