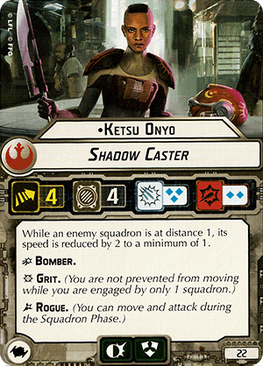 Card Text
Edit
"While an enemy squadron is at distance 1, its speed is reduced by 2 to a minimum of 1."

Grit. (You are not prevented from moving while you are engaged by only 1 squadron.)
Rogue. (You can move and attack during the Squadron Phase.)
Defense Tokens
Edit
Attributes
Edit
Available Through
Edit
The effect of this Keyword is permanent.
Appearance
Edit
Ketsu Onyo was a human female who worked as a bounty hunter in the employ of Black Sun in the years prior to the Battle of Yavin. She was a friend of Sabine Wren and appeared during the second season of the animated television series Star Wars Rebels.
More...
Community content is available under
CC-BY-SA
unless otherwise noted.