" The MC80 Liberty type Star Cruiser is the spearhead of the Rebel Alliance's fleet, and its namesake ship is both renowned throughout the Alliance and infamous throughout the Empire. The Liberty boasts some of the heaviest firepower in the Rebel arsenal. Due to this impressive firepower, the ship's powerful forward shielding, and its ability to dock multiple fighter squadrons, the Liberty is often among the first ships considered to lead Rebel strike forces into combat-likely raids within Imperial territory. "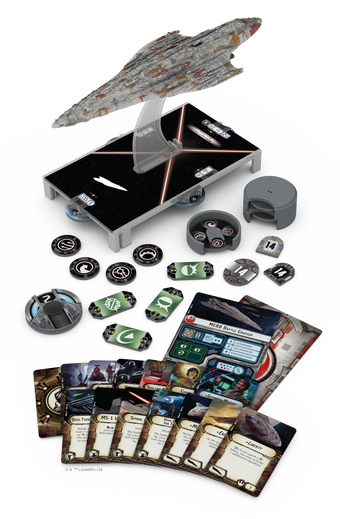 " Like the Home One, the Liberty enters Armada as a large-base ship with eight hull. However, beyond their similarities in size and hull and the fact that both ships were of Mon Calamari design, the Home One and Liberty are about as different from each other as can be. Whereas the Home One is a broadside ship with six dice in its left and right battery armaments, plus four shields each on its left, right, and forward hull zones, the Liberty is built to charge directly into battle. It features seven dice in its forward battery armament, plus five forward shields. Moreover, its upgrades are more offensive in nature than those on the Home One. "
" Accordingly, the Liberty presents the opportunity to experiment with all-new Rebel tactics, such as those you might employ when you use the Liberty to lead a fleet of Nebulon-B frigates directly at your opponent. Naturally, many of the expansion's fourteen upgrades also support this new Rebel play style. For example, General Madine ensures your fleet retains the maneuverability it needs to keep its guns aimed at the enemy, and a team of Veteran Gunners provides additional insurance that your powerful attacks will strike for maximum value. "
This is not a complete game experience. A copy of the Star Wars: Armada Miniatures Game Core Set is required to play.
Ship Cards
Edit
Upgrade Cards
Edit
Commander: Edit
Ion Cannons: Edit
Officer: Edit
Support Team: Edit
Turbolasers: Edit
Weapons Team: Edit
Community content is available under
CC-BY-SA
unless otherwise noted.