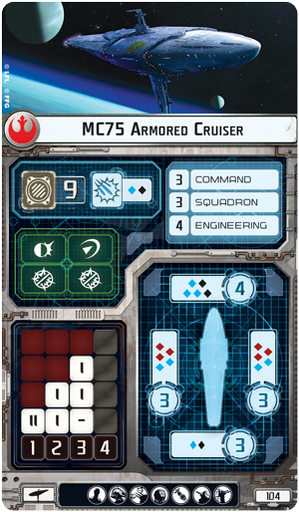 Defense Tokens
Edit
Possible Upgrade
Edit
Class Specifics
Edit
Compared to the MC75 Ordnance Cruiser for 100 pts. the Armored Cruiser is armed with 3 blue and 2 black dice at the front battery instead of 2 blue and 3 black, 3 red and 2 blue dice on the side batteries instead of 3 red and 2 black, and 1 blue and 1 black dice at the rear battery instead of 2 black. The ship has 1 blue and 1 black anti-squadron armament instead of just 1 black and a Squadron value of 3, rather than 2. It lacks the second Ordnance Upgrade slot, instead having Ion Cannon and Turbolaser Upgrade slots.
Available Through
Edit
Appearance
Edit
More...
Community content is available under
CC-BY-SA
unless otherwise noted.