Card Text
Edit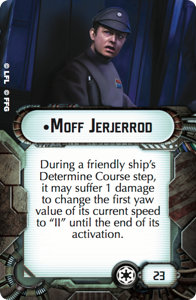 "During a friendly ship's Determine Course step, it may suffer 1 damage to change the first yaw value of its current speed to "II" until the end of its activation."
Rules Clarification
Edit
Moff Jerjerrod does also apply to huge sized ships.
Attribute
Edit
Available Through
Edit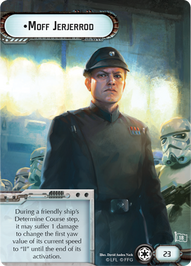 The effect of this Upgrade Card triggers during Ship Phase step 3: "Execute Maneuver."
Appearance
Edit
Moff Jerjerrod was Commander of the Second Death Star in Episode VI: The Return of the Jedi.
Community content is available under
CC-BY-SA
unless otherwise noted.