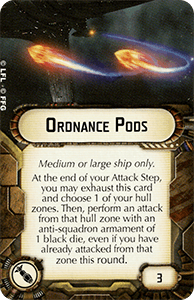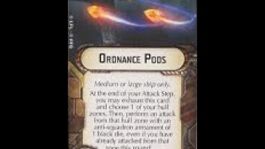 Card Text
Edit
"Medium or large ship only."
"At the end of your Attack Step, you may exhaust this card and choose 1 of your hull zones. Then perform an attack from that hull zone with an anti-squadron armament of 1 black die, even if you have already attacked from that zone this round."
Rules Clarification
Edit
This card's effect allows the ship it is equipped to to perform an anti-squadron attack against each eligible target in the chosen hull zone's firing arc.
If a ship is equipped with both this card and Gunnery Team, a hull zone of that ship cannot target the same squadron more than once during the ship's activation.
Source: FAQ 5.1.1; 2020/03/09
Attributes
Edit
Available Through
Edit
This Upgrade Card must be exhausted and triggers at the end of Ship Phase step 2: Attack
Possible Build-Up
Edit
The following ships can be equipped with Ordnance Pods:
Community content is available under
CC-BY-SA
unless otherwise noted.