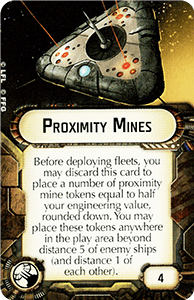 Card Text
Edit
"Before deploying fleets, you may discard this card to place a number of proximity mine tokens equal to half your engineering value, rounded down. You may place these mines anywhere in the play area beyond distance 5 of enemy ships (and distance 1 of each other)."

Attributes
Edit
Available Through
Edit
The timing of this Upgrade Card is unclear, because there are no ships in the play area before deploying fleets.
Community content is available under
CC-BY-SA
unless otherwise noted.