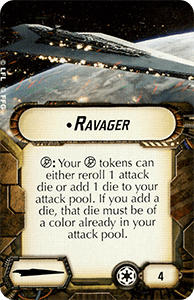 Card Text
Edit
"

: Your

tokens can either reroll 1 attack die or add 1 die to your attack pool. If you add a die, that die must be of a color already in your attack pool."
Attributes
Edit
Available Through
Edit
This Upgrade Card triggers during Attack Step 3: "Resolve Attack Effects"
Appearance
Edit
The Ravager was an Executor-class Star Dreadnought. By the time of the Rebellion on Akiva, the Ravager was known to be the last remaining Super Star Destroyer in the Imperial Navy, commanded by Fleet Admiral Gallius Rax. It first appeared in the 2015 novel Aftermath. The Ravager's wreckage then appeared in Episode VII.
More...
Community content is available under
CC-BY-SA
unless otherwise noted.