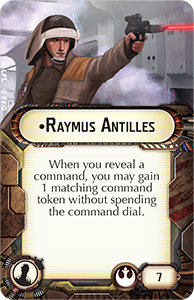 Card Text
Edit
"When you reveal a command, you may gain 1 matching command token without spending the command dial."
Attributes
Edit
Available Through
Edit
The effect of this Upgrade Card triggers during Ship Phase Step 1: "Reveal Command Dial". The gained command token can be spent in the same round.
Appearance
Edit
Raymus Antilles from Alderaan was in the service of the House of Organa. He captained the Tantive IV, and was killed by Darth Vader, as seen in Episode IV.
More...
Community content is available under
CC-BY-SA
unless otherwise noted.