Announcement
Edit
"The 2018 Star Wars™: Armada Regional Championships are nearly here, and you'll want to be ready well before the first shots are fired. After all, Star Wars: Armada is a game of epic fleet battles, featuring many of the Star Wars galaxy's largest warships. These are ships that boast crews of hundreds—even thousands. It takes them time to respond to new orders. And that means developing a strategy that embraces your strengths, baits your opponents into making mistakes, and sets you up for the eventual victory…"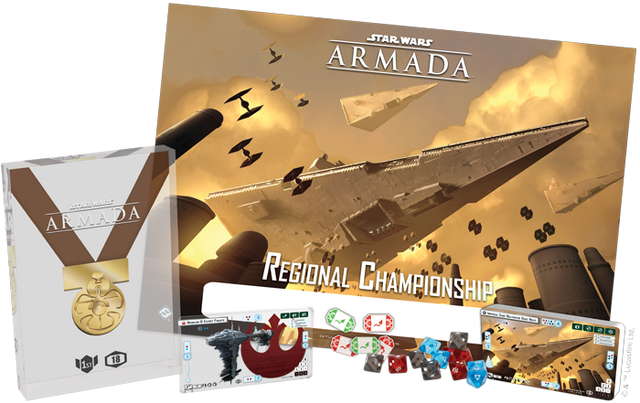 "In the end, it's the fate of the galaxy at stake—plus a whole lot of fantastic prizes!"
Winning the battles of the Star Wars: Armada Regional Championships for your faction is a reward in and of itself. After all, it will feel good to know that you've brought order to the Galactic Empire or fanned the flames of rebellion. However, there are other prizes at stake as well.
First Place: The winner of each Regional Championship receives a trophy designed to look like a medallion encased in glass—and you'll walk away with a first round prize bye for an upcoming Star Wars: Armada National Championship!
Top Four: Five acrylic evade defense tokens you'll get for making the Top 4.
Top Eight: A set of twelve custom dice.
Top Sixteen: A frosted plastic Nebulon-B Escort Frigate ship card.
Top Sixty-Four: An alternate art Imperial Star Destroyer Kuat Refit ship card!
Community content is available under
CC-BY-SA
unless otherwise noted.