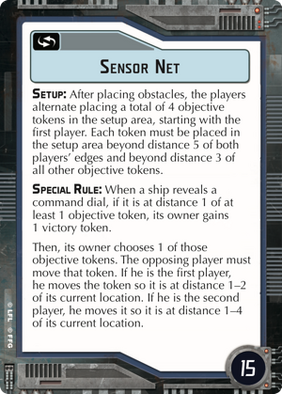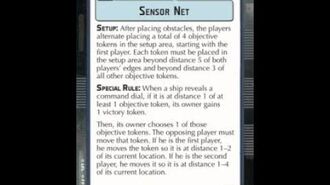 Card Text
Edit
Setup: After placing obstacles, the players alternate placing a total of 4 objective tokens in the setup area, starting with the first player. Each token must be placed in the setup area beyond distance 5 of both players' edges and beyond distance 3 of all other objective tokens.
Special Rule: When a ship reveals a command dial, if it is at distance 1 of at least 1 objective token, its owner gains 1 victory token.
Then its owner chooses 1 of those objective tokens. The opposing player must move that token so it is at distance 1-2 of its current location. If he is the second player, he moves it so it is at distance 1-4 of its current location.
Victory Token: 15 pts.
See also
Edit
Available Through
Edit
Community content is available under
CC-BY-SA
unless otherwise noted.