We're Getting Mutants in the MCU - The Loop
Play Sound
Rule
[
]
There are several components in Star Wars Armada that can be spent to induce a wanted effect. Some effects can force or allow a player to spend a component.
If a dial, token, die, or other component is spent as part of a card effect's cost, that component does not also produce its normal effect.
Ships and squadrons cannot spend command dials, command tokens, or defense tokens belonging to other ships or squadrons.
Spend Defense Tokens:

[

]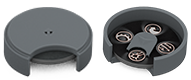 Spend Command Dials and Tokens:

[

]
When a command token is spent, return it to the supply.
When a command dial is spent, it is placed faceup on the ship's ship card and remains there until it is assigned as a new command during the next Command Phase.
Spend Engineering Points:

[

]
Spend Dice:

[

]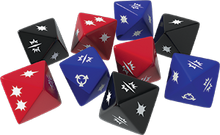 Spend Shields:

[

]
Some upgrade cards may demand to reduce 1 or more points of a ship's shield value to trigger its effect. (e.g.: Dominator)
Spend Fleet Points:

[

]
A fleet cannot spend more than one third of its fleet points, rounded up, on squadrons.