Announcement
Edit
" In Star Wars: Armada, players take on the role of fleet admiral, commanding Star Destroyers and Corellian Corvettes, sending engineers scurrying to repair shields, and unleashing torrents of laser fire through a flurry of tactical commands. The Summer 2015 Star Wars: Armada Tournament Kit comes with an event guide and new promotional materials to help support tournaments, league play, or any other event you wish to run. The Summer season begins in July and lasts through October.
Tournament Kits are designed for use with our competitive games, such as Star Wars: Armada, and they can be used in several ways. These kits include prize support and promotional material designed to support competitive or casual tournament play at local retailers. Run an eight-week tournament series or league, use the prizes to support a single, large tournament, or host a weekly casual game night. Tournament Kits also come with a guide that provides tips and ideas on how to run a great event. "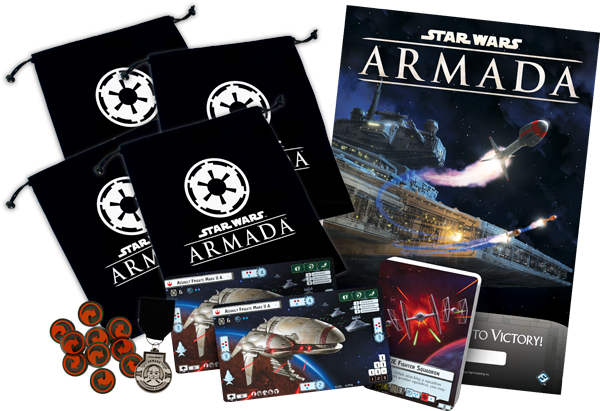 Contents
Edit
One exclusive TIE Fighter Pilot medal
Four sets of acrylic Navigate tokens
Four Imperial-themed dice bags
Two copies of an alternate art Assault Frigate Mark II A card
Seventeen copies of an alternate art Tie Fighter Squadron card
A promotional poster featuring a Star Destroyer launching missiles
One informational pamphlet on running a tournament or league
Community content is available under
CC-BY-SA
unless otherwise noted.