Announcement
Edit
" FFG's The Massing at Sullust is a special preview event, showcasing the second wave of Armada starships and squadrons at exclusive preview tournaments taking place the weekend of October 2nd – 4th.
Only a limited number of kits are available, so retailers should apply today. This exclusive event will provide players their first opportunity to see some of the Star Wars galaxy's most powerful and iconic starships launched into action for the very first time!
Each retailer participating in The Massing at Sullust preview event will run an Armada tournament during the weekend of October 2nd – 4th. Players will bring standard 300-point fleets and compete through three Swiss-style rounds, following all the standard rules described in the official ArmadaTournament Rules document (pdf, 5.4 MB).
Then after the Swiss rounds, the top two players will confront each other in a final match of epic proportions!
Both players will set aside the fleets that they played throughout the Swiss rounds and will build new, 400-point fleets that utilize the Wave II starships and squadrons. One player will construct an Imperial fleet that includes the Imperial-class Star Destroyer and Raider-class corvette, as well as at least one of the Imperial squadrons from the Rogues and Villains Squadron Pack. The other player will construct a Rebel fleet that includes the MC80 star cruiser and MC30c frigate, as well as one or more of the Rebel squadrons from the Rogues and Villains Squadron Pack. Both players will then be able to complete their 400-point fleets by adding starships, squadrons, upgrades, and objectives drawn from their existing collections, plus those from the Wave II expansions under their command.
Using these newly upgraded fleets, the players will battle for the fate of the galaxy… and the right to take home the Armada Wave II expansion of their choice! "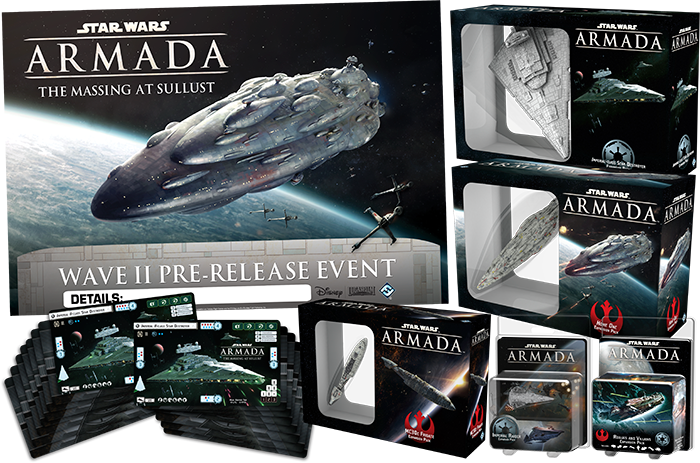 Contents
Edit
Sixteen copies of an alternate art Imperial II-class Star Destroyer card
A promotional poster featuring an MC80 Mon Calamari Cruiser
Community content is available under
CC-BY-SA
unless otherwise noted.