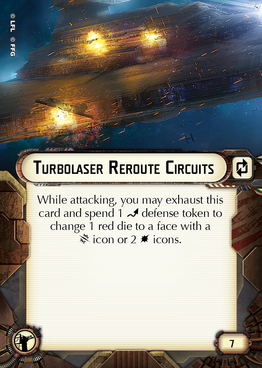 While attacking, you may exhaust this card and spend 1

defense token to change 1 red die to a face with a

icon or 2

icons.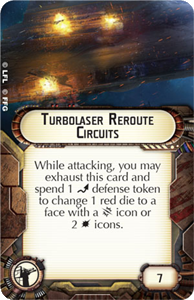 While attacking, you may spend 1

defense token to change 1 red die to a face with a

icon or 2

icons.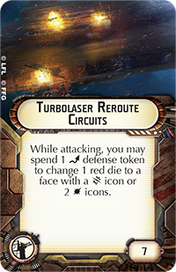 The effect of this Upgrade Card triggers during Attack Step 3: "Resolve Attack Effects"
The product image for the MC30c Frigate Expansion Pack shows a card with identical artwork and similar or identical text. Instead of "Turbolaser Reroute Circuits," it is labeled as "XV9 T..." (probably XV9 Turbolasers). Most likely the card was renamed in development.
Community content is available under
CC-BY-SA
unless otherwise noted.