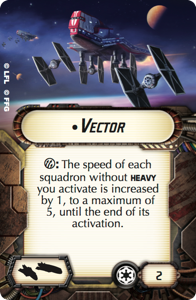 Card Text
Edit
"

: The speed of each squadron without Heavy you activate is increased by 1, to a maximum of 5, until the end of its activation."
Attributes
Edit
Available Through
Edit
The effect of this Upgrade Card triggers during Ship Phase while resolving a

 command.
Appearance
Edit
The Vector title has been created for Star Wars: Armada.
Community content is available under
CC-BY-SA
unless otherwise noted.